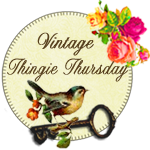 It's my favorite day of the week again..and 3 of my favorite aprons. Ever'body, come join in the fun at Vintage Things Thursday. Suzanne is our lovely hostess with the mostess every week..and carries on each week without fail. So Suzanne, thank you so much for this fun day. If it should ever go away, I would truly be sad.. Click on
ColoradoLady
to take you straight to the vintage pretties.
~~~~~~~~~~~~~~~~~~~~~~~~~~~~~~~~~~~~~~~~
I share with you three pink ginghams that I love..quite possibly of all the ginghams involving gingham stitch or chicken scratch, pink is probably my favorite color. The look is dainty,delicate and has the look of lace when embroidered. I do so want to do a small teacloth and napkins in pink..but I want to do so much, there's not enough time..so for now, the gingham embroidery will not be done for awhile..whilst I finish my other embroideries.
I am happy to say,that I really think aprons are making a comeback. I so hope so.
Show me a kitchen where an apron lives and I will show you a good cook. She may not be all that much a fancy cook, but she will be able to cook and invent as she goes along. Hopefully, along with her apron, she will have the kitchen of her dreams..
and there will be somewhere to hang an apron at the end of the day.
Hope you have as much fun on vintage day as I do..and now I'm away to visit the other participants. I can't wait to see what everyone has to show.