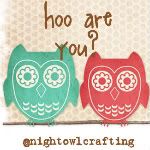 The rules for this little get to know me kind of party is simple, Just answer the questions, link your answers back to NightOwl Crafting,...and visit as many participants as you can. Be sure and take the cute little party link button... So come join the fun. Let's get to know each other better....
To start...My name is CC, and I reside in Texas. I am married,with 2 grown sons,1 daughter in love, and 4 wonderful grandchildren. Through the weeks,with the questions posed and answered, we'll all get to know each other better. Come join the fun..participate
Here are the questions for this week's
Hoo are you Tuesdays?
1. What are some of your pet peeves?
People that don't tell the truth;
2. Do you have a favorite or lucky number?
ummmmm 27 I suppose. That's my birthday
3. What is one of your family traditions?
I think it would be the gathering at Christmas with everyone at my house. The same ornaments,with a few new each year,with the mouse on Santa hat always going on first and in the front. He's the first ornament I made...I had cancer,and was given the task of making Christmas ornaments. The idea was to plan for something in the future, to keep moving ahead..to plan on a future...I've made Christmas ornaments ever since..
4. Is there anything you are OC about?
I suppose that would be making sure my doors are locked, and in crafting..with embroidery,knitting or crochet..the stitches must be as perfect as possible. A "funny" or dropped stitch 10 rows back.will be ripped out an redone. I simply can't stand it. With embroidery,the stitching must be as perfect as possible..or out it comes.
5. What is your favorite kind of food?
Chinese first....,then Italian second.....then bar-b-q ribs. ummmmmmmm,ok Maybe ribs are also in the top spot with Chinese
Now it is your turn to answer and link up!
IF YOU NOTICE THAT YOUR POST IS NO LONGER LINKED UP, READ THE RULES AND LINK UP AGAIN! ALSO IF YOU HAVE A CRAFT TO LINK UP, COME BACK TOMORROW FOR HOO'S GOT TALENT!
Hoo are you?