It's Social Parade Time and Wednesday Link UP, Come join the fun!!!!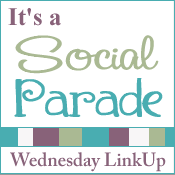 This is again..from the stacks of pillow patterns. And..ooo,there are some good ones. Do any of you remember smocking or your mother smocking aprons and pillows? Most of the time with beautiful ginghams..but sometimes, out would come that gorgeous velvet...and the grid would be drawn on the back..and the stitching would begin. However, as beautiful as the velvet pillows were, I am a gingham girl. I still am. Little makes me happier than a first glimpse of gingham in a thrift or antique shop..I immediately think..apron! apron!! and *sighs..even better if it has embroidery or chicken scratch worked on it. I am not ashamed to admit..I have been known to happy dance in a store. :).
Does anyone still do yoyo's?? I mean,besides me? It's a very soothing thing, to sit and cut circles form gorgeous fabrics..and sew those little circles. I have a small container filled, but..what was I thinking??? They are of different sizes. I have a grandaughter that may never sew anything else, but for awhile..that was her favorite thing to do. So we cut fabric and sewed. her favorites were always the shades of yellow.. if it was yellow, then Missy Taylor made the yoyo. *sighs.. my sweet girls are grown now..in college, with little time for making yoyo's with a granny, I miss them, the way they were when they were little. I'm going to stop that before I bring myself to tears..
Don't forget..if you come by, be sure and leave a comment for the cupcake holder giveaway. I will draw the name this coming Sunday morning..so you still have plenty of time, so comment away. Hugs to everyone..