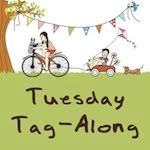 This is a vintage 40's transfer design, using regular embroidery and cross stitch for the fill in or the shading. I've tried to enlarge the back of the package so the instructions might be seen more clearly. I've had this little set of patterns for quite awhile now..in fact, I don't seem to be able to remember for sure where I got them from....no matter though. I just don't seem to be able to let old,vintage patterns fall by the wayside. I love vintage..really vintage anything, but linens, pillowcases,tablecloths and aprons with beautiful embroidery and trims are my weakness. And when it comes to vintage patterns,there are so few out there and I just can't seem to let them die for lack of people being able to see and enjoy them.
I'm not sure how many of this little series, I believe there is 10 transfers.. and they just belong on anything kitcheny. Is that even a word? Just think..on tea towels,linens to line those gorgeous old cabinets, aprons..pot holders..curtains..
whatever you can thing of,these would be cute.
I will post one of the little patterns..each Monday and Friday..till the little series is done. I so hope you enjoy them..
Just click on the pictures to enlarge ...and run off a copy. Using tracing paper and your trusty transfer pencil, trace little pattern off. Lay the red transfer pencil side,face down on your project and iron on. Then just embroidery and enjoy...