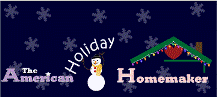 It's that time again..for our favorite Holiday Show and Share. Let's each of us hop into our reindeer drawn sleigh and in a twinkle follow the button above to visit all the participants. So snuggle down in the warmth of the fur throw, pour a hot chocolate (don't worry..our reindeer will not let us spill)..and we're off to visit..:)
I love these red berries on the backdrop of green. leaves..it's the look of Christmas. Now if only there was a few snowflakes to complete the look...
I think this tree is just amazing and I wish it was mine..aaahhhh, but next year it will be. I love the look and it has some of my most favorite things..from tin punch to yoyo's. I can't believe how the simplest of things can be so beautiful..maybe it's that magic of Christmas..the true meaning,that lets us know..that somehow the beauty of Christmas is our love and faith.
Just a pretty red flower..in this cold, the color warms my spirit..
I think this is possibly one of the sweetest little Nativities I've seen. And, even after I knew that it was made with cookie dough and frosting, I had to look again and again.
And so we end with another of the red flowers. As we speak, I sit snuggly and warm..with a latte, trying to make certain there's nothing I've left out...as is said "makin a list and checkin it twice"..but all seems to be in order.